News from Bulgaria:

Justice for Women in Bulgaria
/13-02-2014 /
On 14 February 2014 at Theatre 199, ONE BILLION RISING BULGARIA will kick off the day of activism, theatre and dance FOR JUSTICE by gathering prominent Bulgarian women's rights activists, lawyers, academics, parliamentarians and journalists to disc ...


Ladies back in the aviation
/22-11-2013 /
On the19th of October, at 19:30 in the show bTV The Reporters, Gabriela Naplatanova and the cameraman Ivan Filchev discovered the dramatic story of the women pilots, removed from military aviation fifty years ago and what happened when they have returned. ...


Third International Forum on Women Entrepreneurship
/21-11-2013 /
On the 15-16 November 2013, in the "Sheraton Sofia Hotel Balkan", Sofia was hosted the Third International Forum on Women Entrepreneurship, organized by the Bulgarian Association of Women Entrepreneurs (BAWE) with the financial support of the Executive Ag ...

Library:

Library
/03-02-2005 /
In our library you can find texts of Bulgarian laws as well as links to international legal documents. The publications of CWSP are also presented here. The library offers articles and papers of Bulgarian and foreign authors treating different gender i ...


In focus:

CWSP participated in workshop on sharing of good practices on gender equality policies in Euro-Mediterranean region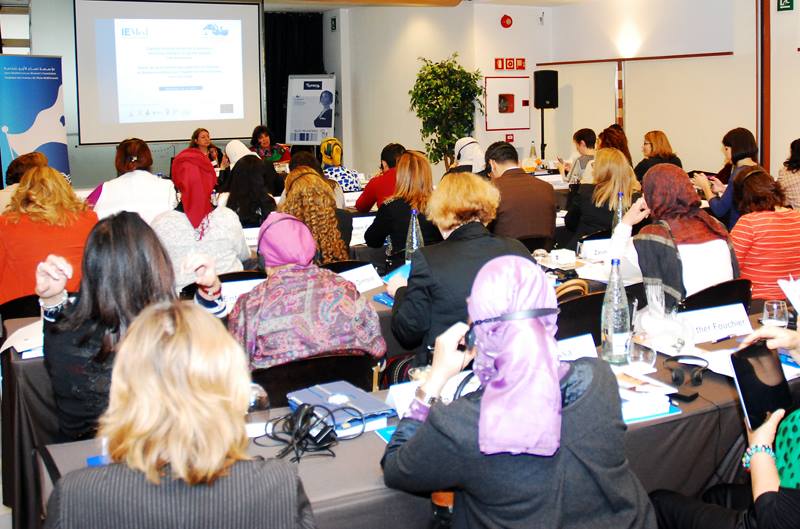 Center of Women's Studies and Policies participated from 4 to 9 of April 2016 in a training and sharing of best practices workshop, organised by the IEMed and the Euro-Mediterranean Women Foundation in the framework of the CSO-Wins EU-funded project.
36 representatives of civil society organisations and networks, working for gender equality in Tunisia, Algeria, Morocco, Palestine, Egypt, Libya, Jordan, Lebanon, Bulgaria, Greece and the European Women Lobby, met in Barcelona to discuss successful practices on implementing campaigns against gender based and domestic violence, guaranteing inheritance rights of women, as well as campaigns on political participation of women and capacity building for application of gender equality policies on local nad national level in the EUuro - Mediterranean region. More information about the presented practices you may find in the publication, developped within the project: https://www.euromedwomen.foundation/pg/documents/view/5583/en/4.



16 Days of Activism against Gender-Based Violence

On the 25th of November starts the International 16 of Activism against Gender-Based Violence campaign. The year 2015 marks the 24th year of the campaign, initiated in 1991 and this year the Center of Women's Studies and Policies Foundation will focus again on a topic, which is not so much discussed neither in Bulgaria, nor in Europe - the role of the private business for prevention, protection and reintegration of women suffering gender-based violence outside their workplace.
As a partner in the two years' project CARVE - Companies Against gendeR based ViolEnce , co-financed by the EU Daphne III Program, CWSP made a study in the period February-June 2015 on the level of information, attitudes and practices in companies in Bulgaria for prevention, protection and reintegration of women, victims of violence, happenning outside their workplace. Look at the results.



European conference "Families beyond borders - What is the impact of migration on families?"
is breaking taboos and provoking discussions on gender roles and transnational families in Europe.
5-6 November 2015 - Sofia, Bulgaria

Participants of the training "Designing and implementing your advocacy campaign for transnational families" | Photo © 2015 Ana Pérez
On the 5-6 November 2015, COFACE, the Confederation of Family Organisations in the EU and the Bulgarian Center of Women's Studies and Policies (CWSP), organized the "Families Beyond Borders" conference in Sofia, Bulgaria. The 2-day event, focused on transnational families, aimed at exploring challenges and consequences of what it means to move to a different country for better economic prospects, but leaving ageing parents and sometimes young children in their countries of origin.
Economic migration is not a new phenomenon but, while studies and policies are focussed on the person who move, little attention is paid to those family members who stay in the country of origin and the impact that the migration process has on the family has a whole. The departure of a family member is always a difficult decision and sometimes a last resort for families living in poverty. The profile of economic migrants in some areas is changing, bringing changes also on roles within the family: more and more women move to become care workers abroad and become the family breadwinners.




World News:

Gender gap in pensions in the EU
/29-04-2015 /
According to a RESEARCH NOTE, to the Latvian Presidency, drafted by the European Institute for Gender Equality (EIGE), inequalities in access to economic resources in old age are immense, and women pensioners face higher risks of poverty in old age as co ...


CSW59 –Beijing Betrayed
/21-03-2015 /
FRIDAY FILE – Two decades after the Fourth World Conference on Women, women and girls around the world deserve better than this year's CSW outcomes. At this time of celebration and affirmation of Beijing and commitment to accelerated implement ...


Germany Sets Gender Quota in Boardrooms
/08-03-2015 /
Chancellor Angela Merkel, left, and Manuela Schwesig, the minister of family affairs who helped a law requiring more women on corporate boards clear legal and political hurdles in Germany. Credit Soeren Stache/European Pressphoto Agency By ALISON SMALE ...

On going projects:

Watch Your Shadow
/06-01-2015 /
Since 15 of October 2014 Center of Women's Studies and Policies in cooperation with Flying Broom Women Association (Turkey) and European Research center to the University of Ankara , started the implementation of 14 months project Watch Your Shadow, ...


Empowerment of Family Carers (Care4care)
/03-12-2014 /
WHY? The non formal longterm family care for disabled elderly or people with disabilities makes difficult and sometimes impossible reconciliation of work and family life, decline the health condition of the carers and often isolate them socially. Carers ...