Conference "Family beyond borders", 6.11.2015 | Photo © 2015 Ana Pérez
The event was a great opportunity to foster exchange between researches, experts and policy makers from all around Europe to raise awareness of the difficulties that transnational families go through.
On November the 5th, a training "Designing and implementing your advocacy campaign for transnational families" was organized, followed by a networking dinner and the film projection "The town of Badante women".
The training aimed at identifying needs and objectives, target groups and best tools. Participants worked in smaller groups to develop its own campaign idea and received feedbacks from other groups and trainers. The training was organized by Paola Panzeri from COFACE.
The film presented the Bulgarian city of Varshets, where the unemployment rate is extremely high. For many families, the only solution is to take the decision (this concerns only women) to go to Italy and work as "badante" (caregivers for old people). These women leave planning to stay a short period, but they often end up staying much longer. In the meantime, in Varshets also men's lifestyles are changing: they deal with housework and find strategies of mutual aid, while waiting for their wives' money that arrive once a month, and for their wives who come home more and more seldom. The film, very touching, was followed by a question-answers session with Diana Ivanova, film screenplay writer.
The actual number of migrant careworkers is unknown but their number is far higher than the workers in the formal care sector. We discussed at the event about the effects of the "care drain" in the country of origin and the consequences it has on children and family members left behind. The children are left behind to the care of other family members. Sometimes other women are employed to care for the children .Those women may also be a mother and have left her children behind to care for someone else (a "global care chain"). This is a highly relevant topic in the context of our ageing population in Europe.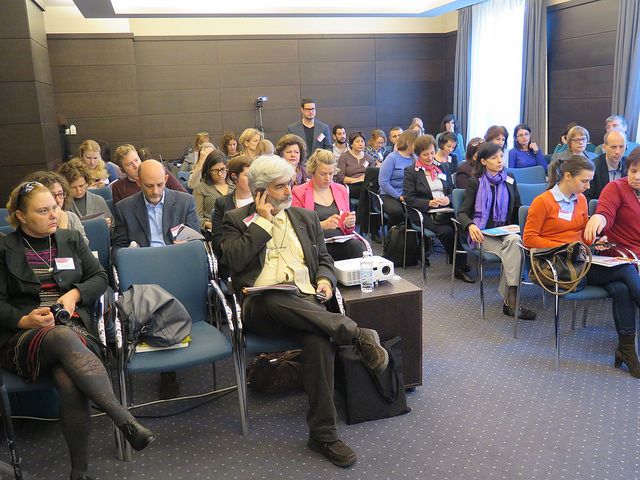 Conference "Family beyond borders", 6.11.2015 | Photo © 2015 Ana Pérez
On November the 6th, the European conference "Families beyond borders - What is the impact of migration on families?" took place, including a poster presentation.
The conference explored a variety of aspects of transnational families through three workshops:
1 Labour migration and transnational family life
Family members can live apart temporarily or for very long periods and their family life is very much conditioned on the possibility to visit each other and going back to the country of origin.
2 Brain-drain, emigration and family formation
Mobile workers are massively leaving countries with economic difficulties to find opportunities in other EU member States. Mobility is often the last resort more than a career choice.
3 Migrant carers and global care-chain
A large share of the care work which is externalised outside the family is covered by the employment of migrants, often migrant women.
A poster presentation session was organized during the lunch time with the participation of associations from different countries.
A detailed report from the conference will be available in the following days. In the meantime you can check the speakers' presentations and pictures of the event on COFACE's website