Trainings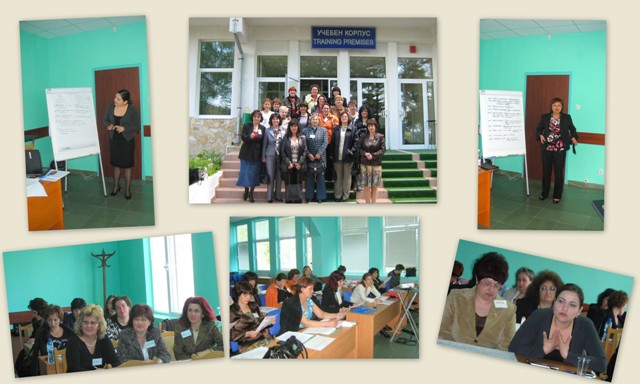 The preparation of the trainings took place in February-April 2009. All women's groups in the main political parties were contacted and invited to nominate participants. As a result 72 women leaders and activists from the following political parties: United Agrarians, Union of Democratic Forces, Green Party, the Greens, GERB, Bulgarian Socialist Party, VMRO, United People's Party (UPP), Gergiovden, Movement for Rights and Freedoms paricipated in the trainings.
The objectives of the trainings were to strengthen skills of women candidates to plan and run election campaigns,to build alliances among them, to raise awareness on the election law and to help them understand the role of female MPs in the political process.
Before the training tha participants excpected to learn how to formulate clearer electoral strategies and make their political messages more comprehensive, how to organize better electoral campaigns and be more successful with media.
The trainees identified the following needs after the trainings:
Need of more sources of information on women's political involvement in the world and more examples from practice of women with a successful political career;
Need to rise self-confidence of women who participate in the political process in Bulgaria;
Need to deepen the knowledge in the area of policies targeting women and on gender equality policies;
More knowledge on electoral laws and practices, on electoral systems and implementation of quotas for women as one of the possible measures to rise women's representation in politics.
Recommendations from participants in all events and forum can be summarised as:
More work in political parties to empower women in party structures and in general;
Introduction of voluntary quotas in political parties and establishment of good practices of keeping them;
More work to introduce measures to promote women' political participation at all levels.
Our assessment of the situation in the parties:
The partner structures (women's unions in the political parties) are at different stages of institutional and organisational development by following criteria - authority before the leadership; place in the party structure; organisational structures at local and regional level; external and internal communication; engagement of the members to the goals and the work in these unions; participation in the process of nomination of candidates in the lists; participation in the process of formulation and evaluation of policies.

Lack of target oriented party policies for women's empowerment inside the political parties through:

Recruitment of appropriate candidates and members;

Regular and focused on specific issues training and equipment of the female activists with skills and knowledge;

Promotion of women for career development in party structures.